Whew! I guess my greetings' a couple a days late now. But then I still want to wish everyone of us a happy and prosperous 2009! *big smile!*

Aside from the firecrackers, I know that people gets busy preparing for their media noche (new year's eve midnight meal). Here's what we've got...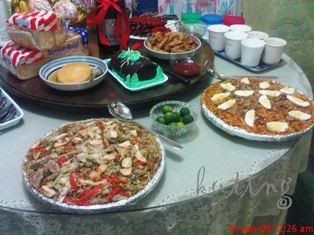 we really do love pansit! (isn't that obvious? *big grin*)
and for dessert... I made leche flan (the filipino style egg & milk custard). One of the Filipino's favorite. Want to try this?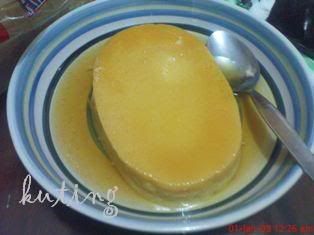 the ingredients
10 medium sized eggs
2 cans (300 ml) condensed milk
1 can (370 ml) evaporated milk
***for the caramel
1 cup sugar
3/4 cup water
here's how
On a large bowl, crack all the eggs. Using a wooden spoon or a rubber spatula, stir until the egg yolks and egg whites are well blended. I suggest not to use blender or egg beater to avoid bubbles. Add the condensed and evaporated milk. Continue stirring until all the ingredients are well incorporated. Set aside.
On a sauce pan, caramelized 1 cup of sugar. Do not over cook the caramel to avoid burnt taste.
Pour the caramelized sugar on aluminum molds. Make sure that the bottom of the mold is well covered with the caramelized sugar.
Get the milk & egg mixture. Pour the mixture on the aluminum mold. About 3/4 inch thick. Cover with aluminum foil.
Steam on a low fire for about 45 minutes. Extend the steaming time if needed until the mixture sets.
To serve the leche flan, run a knife on the edge of the mold, then invert it on a serving dish.
enjoy the sweets!
again... happy new year every one!!!