Balisong or Butterfly knife is one of the products Batangas is known of. Most of the Balisong makers are from Taal, Batangas. Balisong comes in different styles & sizes, showing the creativity of the Batanguenos.

When I was still working in Manila, my officemates thinks that I do have one. They believe that if you're from Batangas, you always carry balisong anywhere you go. Maybe it works before, but now, most of the establishments don't allow people with "deadly weapons" to enter their premisses. So I just leave mine at home... *wink*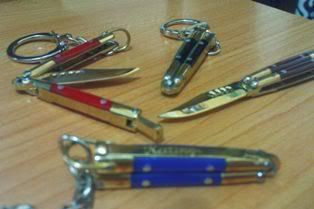 Balisong keychains from Taal.
You can check
www.balisong.com
to know more about balisong knives.