One great way to enjoy
Bangus
!
But be careful with the bones guys! *wink*
the ingredients:
1 whole big Bangus, cut into four
1 large red onion, sliced
6 cloves garlic, minced
4 pieces long green pepper
3/4 cup vinegar
1 1/2 cup water
salt & pepper to taste
MSG (optional)
here's how:


On a pot, place onion, garlic & Bangus. Pour in water & bring to boil. Add the vinegar & season with salt, pepper & MSG. Cover the pot & simmer on moderate heat until the fish is cooked. Add the long green pepper. Simmer for another 3 minutes. Serve with steamed rice.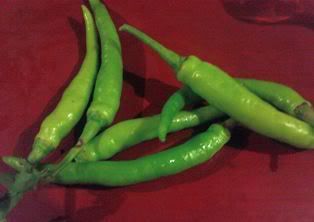 long green pepper
kuting's note: you can adjust the amount of seasonings according to your taste.