Pansit Miki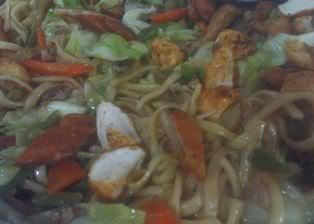 ingredients:

2 kls fresh miki noodles

1 large head cabbage, sliced

1 large carrots, cut into 1-inch thin strips

1/2 kl baguio beans, cut diagonally into 1-inch length

1 large red onion, sliced

6 cloves garlic, minced

1/4 kl ground pork

ground black pepper

soy sauce

pork/chicken broth
here's how:
In a big pan, saute garlic & onion.
Add the ground pork, stir until browned.
Add the vegetables, season with soy sauce and pepper.
Mix well until the vegetables are half cooked.
Remove the mixture from the pan, set aside.


On the same pan, pour in chicken/pork broth. Bring to boil.
Add the miki noodles.
Lower down the heat and simmer for 10 minutes.
Add 3/4 of the vegetable mixture.
Mix well.
Put on a serving dish, top with the rest of the vegetable mixture.
Serve with sliced calamansi.
***Calamansi is sqeezed on to the pansit before eating.
Tip of the day!
If chicken/pork broth is not availabe, you can use a mixture of water and a boullion cube.
You can also top it with fried squid balls (cut into four).