As I grew up, I get used to having vegetables during lunch. Now I am sharing to you the simplest yet a very nutritious vegetable recipe that I know. *smiles*


On this recipe, I don't put any measurements since it all depends on the availability of the ingredients. Some of the vegetables may not always be available, but you can experiment using other vegetables you have. *wink*
Bulanglang
(vegetable stew)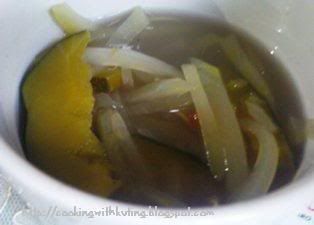 garlic, crushed
tomatoes, cut into halves
green papaya, sliced
unripe or almost ripe squash, cut into wedges
kalamismis
(sigarilyas or winged beans), cut diagonally
patani beans
(lima beans)
okra
, cut diagonally
malunggay
leaves
rice washing
salt to taste
Make sure to wash the vegetables thoroughly before cooking.
On a pot, boil garlic and tomatoes on rice washing.
Add the squash and simmer until half cooked.
Add the rest of the vegetables.
Season with salt.
Continue simmering until all the vegetables are done. Usually, about 10-15 mins.
Just make sure not to over cook the vegetables.
Serve hot.